The Big Island's verdant tropical woodlands, endless volcanic sands, and inspiring historical drama leave an indelible mark on all who experience it firsthand — and Kailua-Kona, in particular, has the most tastefully lavish real estate offerings imaginable. It's a remarkable change of pace for all who choose to resettle here.


If you're considering a move to the Big Island, come along and take a bird's-eye view of the region with one of Kailua-Kona's most experienced and successful real estate teams. At KE Team Hawaii, we're here to help you get the most out of your life in paradise and ensure the most comfortable lifestyle transition possible for you and your loved ones. Here's everything you should know about making a move to Kailua-Kona.
The lay of the land
The Big Island of Hawaii is delineated into nine districts, all with highly distinct cultures and climates. Kailua-Kona — just "Kona" to the locals — is situated along the border of the North and South Kona districts, near the Kailua Bay shoreline and slightly up the southern slope of Hualālai Volcano. Being on the island's west side, Kona boasts a sunnier, warmer, and more stable climate attracting no shortage of luxury resorts. It is also less prone to excessive humidity, being on the upwind side of the island (the word Kona is Hawaiian for "leeward"). As a result, most of the island's moisture falls on the eastern side, aided in part by the island's mountains that reach up to 13,000 feet above sea level, leaving an area like Kona dry and comfortable practically year-round.


Much of Kailua-Kona's prime real estate is sited further up the mountain, where custom-built mansions priced in the tens of millions are not uncommon, and where high-value ranching operations make Kona the agricultural heavy-weight of the Big Island itself. Ironically, a relatively young island plays host to such timeless majesty — yet it's no wonder why some of the world's wealthiest adventure seekers make Kona the object of their desire.
Steeped in history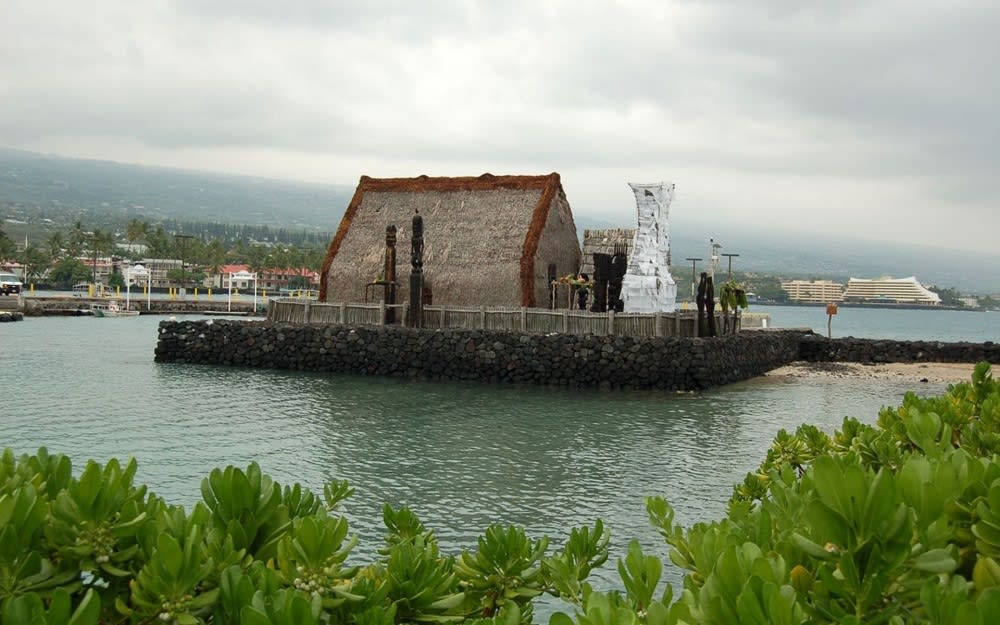 Photo Courtesy of Hawaii Travel Guide, Ahuʻena Heiau
While the Island of Hawaii is the newest Hawaiian island from a geological viewpoint, it's also the earliest known to have been inhabited by people. Kailua-Kona was the capital of the Kingdom of Hawaii when it was unified in 1810 by King Kamehameha I, the Hawaiian nation's first sovereign ruler. For over a century, the Kamehameha family protected each of the nation's 13 islands from global colonists by making superior tactical use of artillery and warships seized from the foreign invaders. Kailua-Kona still bears this spirit of sovereignty, adding to the already palpable sense that the natural environment is a throne unto itself. That feeling is shared by all who set foot in the historic downtown district, beginning at Kailua-Kona Pier and extending throughout the Ali'i Drive Mainstreet. Known as the "Royal Footsteps" of the Kona Coast, Ali'i Drive has many well-cared-for archeological sites. An impressive number of buildings still in use today were used by the Hawaiian royalty as late as 1914.

Be on the lookout for the following historical buildings of Kailua-Kona:
King Kamehameha's Kona Beach Hotel
The Kamakahonu Royal Residence
The Historic Kona Inn
Ahuʻena Heiau (Heiau meaning "temple")
Huliheʻe Palace — A former royal vacation home-turned-museum
Kailua-Kona's vibrant culture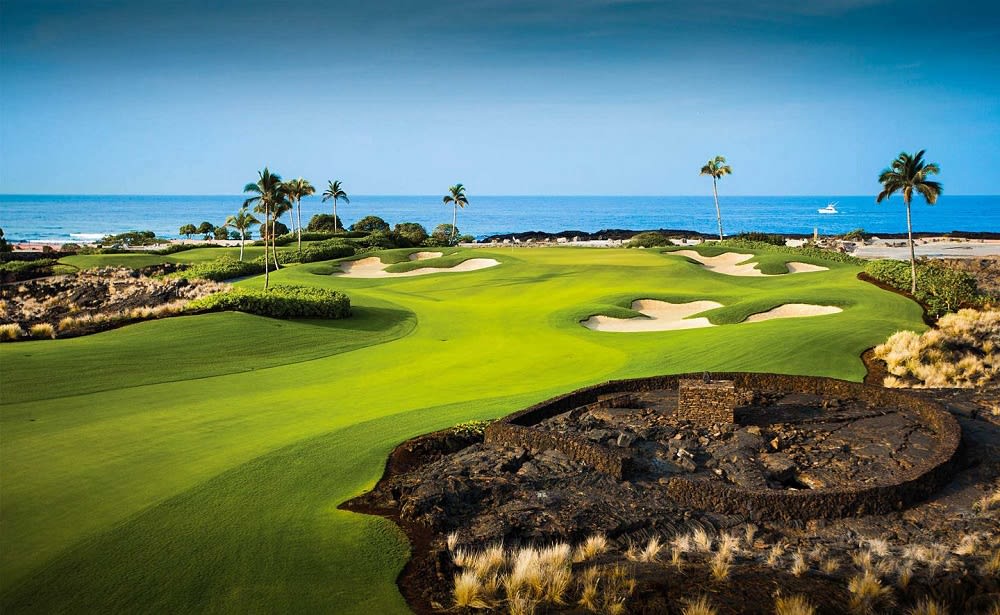 Today, the population of Kailua-Kona consistently hovers around 15,000, and downtown Kailua-Kona has a world-class offering of nightlife and country-club lifestyles. At the same time, you can find endless tranquility at the resort spas just minutes from the depthless natural wonders lining the bold majesty of the mountains to the immediate east.
The area hosts many high-scale golfing clubs with year-round events and unique offerings. At the
Kohanaiki Private Club Community
, golfing enthusiasts can stay in touch with its
barefoot golf
-friendly policy and decompress even further at the nearby Kohonaiki Beach Park once they've made their rounds. The more competitive golf community can get their fill from the many tournaments and
charity events
hosted by world-class courses such as
Four Season's Hualalai Resort
or the
Kona Country Club
. The latter is located just south of
Kahalu'u Beach Park
, much loved for its reef-side snorkeling, former royal homes, and ancient temples. Those wishing to fall deeper into relaxation can let their tensions melt away at the Outrigger Kona Resort and Spa or one of Kailua-Kona's many other upscale spas. At the same time, families can enjoy endless fun together at the ever-popular Honi's Beach.
From Kailua-Kona's downtown center and coastline resorts, inhabitants can reach the up-country villas in just a few minutes. Sprawling farm and ranchland estates can be found as high as 5,000 feet above sea level, and Kailua-Kona coffee farmers have been taking advantage of the generous growing climate since the early 1800s. Today, large-scale operations such as Mountain Thunder Coffee Plantation produce some of the most popular and exotic coffee varieties in the world, fueling much of the global market's insatiable appetite for specialty beans and blends.
Endless natural wonders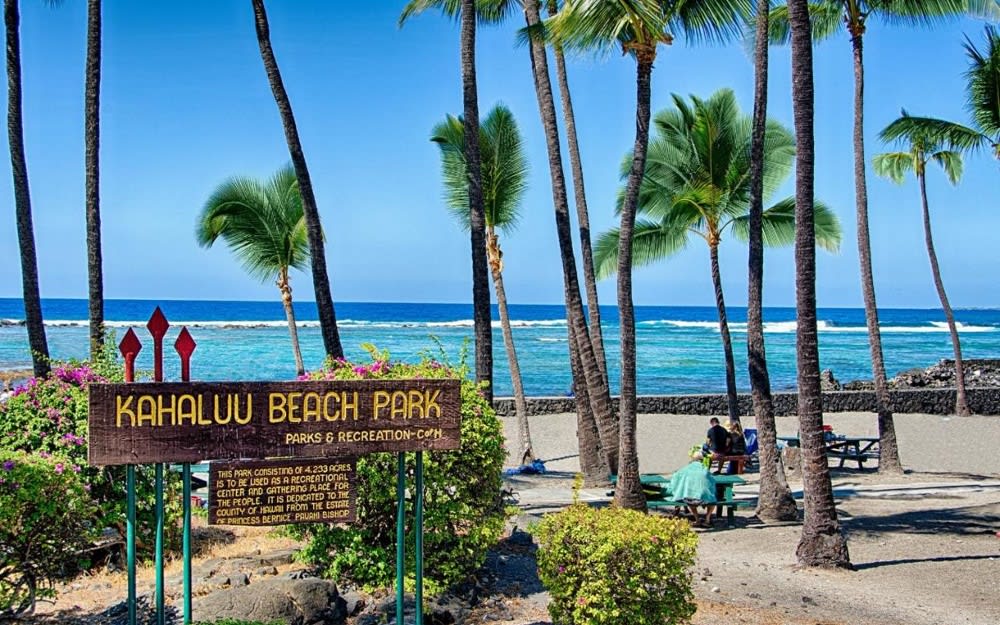 Even with its unceasing agricultural abundance, there is also an astonishing amount of well-preserved natural forest and wildlife habitats. Those making Kailua-Kona their home will have to adjust to an almost overwhelming natural splendor. Once newcomers get used to the endless blue horizon, many report feeling a sense of humbling, if at first unsettling, astonishment at the sheer magnitude of the landscape's beauty. If the landscape's dream-like views don't capture your attention, the enlivening scents of wild floral bouquets and tropical fruits emanating from the unbound forests most certainly will.
The infinite splendor found never ceases to amaze serious nature lovers. Those seeking to connect most deeply with the landscape would do well to explore its many nature reserves to their hearts' content.

Natural points of attraction include:
The multi-apportioned Honua'ula Forest Reserve.
Wai'aha Springs Forest Reserve.
Kona Cloud Forest's Guided Walking Tours.
The beachside Ala Kahakai National Historic Trail.
Kohonakai Beach Park.
Kahalu'u Beach Park.
Kona's regional economy
Like most of Hawaii in general, the backbone of Kailua-Kona's economy is tourism. Kona has no shortage of world-class spas and resorts, but other industries in the region are impressive in their own right. These include cutting-edge technologies, the natural sciences, and highly diverse year-round agriculture. With the nearby Kona and Ellison Onizuka Kona International Airports, business interests do not gloss over Kailua-Kona by any means. Even before the rush of the remote-work lifestyle, Kailua-Kona has long hosted a significantly higher average of telecommuters, and it's steadily been attracting the likes of big-tech and Silicon Valley workforces.


Kailua-Kona also hosts many self-employed small- and medium-sized businesses, along with a notable presence of professional local artists and galleries (due mainly to its proximity to Holualoa). The region's unceasing devotion to the Big Island's history and independent spirit plays an invaluable role as a sub-niche in local and state tourism. Kailua-Kona's rich history never fails to leave a mark of hope and inspiration in the hearts and minds of visitors who seek greater knowledge about what makes Hawaii special — and it keeps them returning time after time.


Academia is served by the University of Hawaii-run Hawaiʻi Community College at Pālamanui, located in North Kona and built in 2015. The school serves fields including but not limited to nursing, science, agriculture, and the culinary arts. North and South Kona also hosts significant activity in the renewable energy, ocean science, and technology fields. Most notable is the nearly 300-hectare National Energy Laboratory, which contributes to solar power, deep ocean studies, and marine biotech while generating almost $100 million of economic activity.


Last but not least, Kailua-Kona itself hosts the second-most valuable farmlands on the island with an extraordinarily eclectic range of exotic crops of unmatched quality, including coffee, chocolate, vanilla, and other top-dollar delicacies. These have made Kona a household name, perhaps most principally by the universally loved Kona coffee. North and South Kona farmlands are also known for their output of macadamia nuts, tropical fruits, and orchids. The latter, in particular, generates much fanfare, having earned the Island of Hawaii the moniker "Orchid Island."


True to its nickname, the Big Island hosts the Kona Orchid Society (KOS), which actively engages both commercial and community interests while spearheading conservation and charity initiatives. With astonishingly modest funding, KOS has discovered and preserved many rare orchid species not found anywhere else on the planet. For these and countless other reasons, the Kona region — and Kailua-Kona itself — is a truly rare jewel in an already rare slice of paradise. If the majestic tropical environment can be likened to royalty, Kailua-Kona is indeed situated in the most regal of footsteps.
Making the most of your life in Kailua-Kona
Relocating to Kailua-Kona proves to be one of the most life-affirming decisions in our clients' lives. The grandeur of the setting cannot be overstated, but it is also not something to be intimidated by. With the right help, transitioning to this Big Island gem can be just as easy as it is life-changing. As one of the most successful real estate firms in the west island's history,
KE Team Hawaii
strives to help you navigate
Hawaii's luxury real estate offerings
with ease. We synthesize unmatched regional knowledge, new technologies, and time-tested relationships to bring you the very best mansions, estates, and ranchlands the Kailua-Kona real estate market has to offer.
Whether you are selling your home or purchasing a new property in the Kailua-Kona area, you need a dedicated agent who loves what they do and will listen to your needs above all. Kai and Emil are passionate about helping our clientele find — and live — the paradise lifestyle of their dreams. Contact us to share your vision, and discover how we can bring the deep blue horizon right to your doorstep.